May 30th, 2011 by SeveSanchez
It was about one hour before kickoff of the 2011 Champions League.  That's when the very first question popped into my head.  Little did I know that my fragile brain was soon to be inundated with inquiries into the circumstances surrounding this momentous match.
"What on earth is Alex Ferguson thinking?"
That was question numero uno, when the Manchester United teamsheet was announced.  Giggs and Carrick as your central midfield?  Game over.  T'was it for me.  Barcelona have possibly the greatest passing game ever and that's what you march out to combat it?  Right there went any chance United had.  Gone.  It was like Fergie wasn't sure if he wanted to attack Barca or defend them– his indecision soon becoming his most catastrophic mistake.  You either pack 5 in your midfield with Anderson and Fletcher, or commit to wing play with Nani/Giggs instead of Park and maybe find a spot for the retiring Scholes.  Fergie essentially did this instead.
And what now for Dimitar Berbatov?  A few days ago Fergie was trying to help him the Premiership Golden Boot outright, but the Scot couldn't even squeeze him on the substitutes bench?  No wonder the rumor is that Berba didn't even care enough watch the game in the stands…  And how do you like this for a double dose of CL irony: Fergie picked Owen over Berba in case he needed a jammy late goal, then leaves Owen on the bench in that exact situation!  And, for a manager whose greatest strength is man management, Fergie might have just shoved the Bulgarian out of the United door.  At least he has a future in Hollywood.
At kickoff the game had already become a spectacle, then as a contest it immediately turned into a farce.  United with only 37% possession, 0 corner kicks, 1 shot on target (the offside goal), fewer than half the number of completed passes as their opponents, some 4 km fewer run Barca, and so on.  I cant lie.  It was joyous to watch as a Liverpool supporter, but in some ways mind boggling as a football fan.
What took Wayne Rooney so long to reach this form?  For 3/4 of the Premiership season he was MIA, then he finds his legs– and some goals –during the final stretch as United finish winners.  For me, he was the only Man United player that actually had a "good" game against Barcelona.  I suppose you could make the argument that his offseason shenanigans impacted his play, but it feels too simplistic an explanation.  I can't wait to see what my Manc friend Ravi says about it.  But check this out.
Maybe Rooney plays his best when he's angry, under-appreciated, doubted, and not expected to be the best player on the field?  Think about it.  During his Everton days he was still fiercely trying to prove himself to the footballing world.  Same circumstances at Euro 2004, on a more global scale.  Played brilliantly.  Every international tournament since then he's done nothing to live up to his reputation (unless you're talking about his renowned temper).  At Man United, he was always second fiddle to Ronaldo.  Again, Rooney was brilliant.  But now that he's supposed to be United's best player, alpha dog, mack daddy– he bottles it faster than a Belgian brewmaster.
Here's the wrinkle.  During the 2009-2010 Premiership season (Ronaldo already at Real Madrid), Rooney scored 26 goals en route to winning PFA player of the year.  Of course, Chelsea pipped his team to the title, making this theory more wrinkled than Gordon Ramsay (pre Botox, of course).  But isn't it possible that Rooney was still playing in the shadow of Ronaldo?  That he still felt like he needed to prove himself?  Just like this year, when the doubts and whispers around him grew, BANG!  Stunning bicycle kick winner against Man City.  Playing against Messi?  Take this!  Think abut it.  Then think about it some more and get back to me.
How will Van der Sar be remembered?  A steady Dutch legend with elegant hands?  I suppose I hope so, but I have a feeling that will depend on David de Gea or whoever replaces him.  Still, I wonder how much his performance in this Final will sway that opinion too.  Brad Friedel, in his embarrassing, wannabe English faux-accent, said Van der Sar couldn't have done much better to stop the Barca goals.  Look.  I'm no goalkeeper, but it sure appeared that he should've stopped at least one of those.  You never know how these things change… things.
Still, I can't say a bad word about Barcelona.  They were never losing to Manchester United.
Last summer I secretly hoped that Real Madrid would overpower them in both La Liga and the Champions League, but the writing was on wall in Mourinho's blood back in November when Barca clinched the Clasico 5-0.  And watching the Catalans play, how can one hate on the sublime?  Their subtle movement off the ball, their satiny control, their patience– all of these things epitomize the perfectly crafted approach Barcelona take to the game.
The NYT had an interesting little piece on the infamous Barca youth academy.  It's not about winning matches, but rather the style which the club believes offers the best route toward winning.  That's what the academy teaches all of its players.  And the players have listened.  Valdes, Puyol, Pique, Xavi, Iniesta, Busquets, Pedro, Messi– all came through the Barca academy.  This current crop of superstars were not purchased or manufactured, but groomed and educated.  Above all else, the Barca sense of style was their bread and butter.  Now the table is set and the great feast is ready.
As a Crewe Alexandra coach once told me, "I ******* love it when a plan comes together like that!"  And who am I to argue?  Even Barca's manager, Pep Guardiola, is an academy grad.  Barcelona have never compromised their principles and now all their recent success vindicates their faith in The Barcelona Way.
So, where does this put Lionel Messi in the pantheon of the Greats?  He's already top ten material.  His resume is all there, headed by his ridiculous goal tally (100 in two seasons!?) and club accomplishments (too many to list).  At this point, all that's missing is leading Argentina to a World Cup then he's definitely up for debate as the Greatest Of All Time.  But there's so much that can derail him from that path, that the awful feeling in my stomach won't even let me mention specifics.  Just understand that we have been here before.
I remember a few years ago in Ronaldinho's heyday, he said something along the lines that it wasn't enough for him to win, but he had to give the world a performance that they'd never seen before.  At the time I thought it was awesome, like this:
But now it's actually quite heartbreaking.  I can't think of those words and not hear lonely shades of Cobain's "Smells Like Teen Spirit."  "Here we are now / entertain us."  Maybe the bucktoothed one overachieved, winning the World Cup too early in his career.  I don't know.  But at some point, he started to play against his own legend.  "And I forget just why I taste / Oh yeah, I guess it makes me smile."  His love for the actual game dwindled as his downfall began, and he covered it up by delving deeper into life's joys extraneous to the game.  Drinking, eating, partying, women– a Georgie Best special.  As Ronaldinho lost his passion for football, I suppose he had to channel it somewhere else.  Before we knew it, Ronaldinho was running on empty and finished as a top player.
There's nothing to suggest Messi will overindulge in the same way as R10, but I worry what dark flaw goes unseen whenever the world watches such obvious genius in the little Argentine.  Could not winning the World Cup for awhile actually be a good thing for Leo's hunger and passion for the sport, and therefore his status as an Immortal?  Maybe, like the uber-patient approach the Barcelona academy takes in farming players, Messi must wander the wilderness for years before getting his World Cup.  Maybe that will keep him sharp when his explosiveness starts to fade and he must find new ways to remain a world class player.  Maybe Ronaldinho was just a prophetic forerunner, John the Baptist heralding the approach of Messi Christ.  Maybe Messi will one day retire as the G.O.A.T.  Games like the 2011 Champions League Final make me want to believe.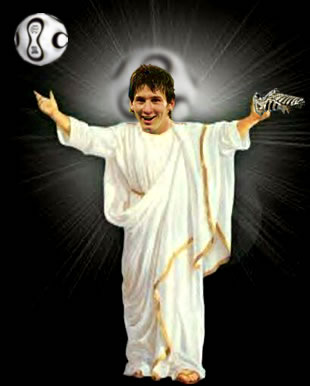 And watching Messi's Barcelona slaughter United without mercy (get it?) got me thinking about this year's Premiership even more.  How did this Manchester team win it all?  Okay, I suppose I know the answer, but I wouldn't be a proper Liverpool fan if I didn't ask it.  We stayed in the dressing room until January.  Chelsea more or less did the same.  Arsenal dropped way too many ugly points.  Spurs overexpanded their empire (classic mistake) and their own ill-fated CL run took a heavy toll on their league performances.  City are still about one season away from being a major powerhouse.
United won the domestic title this year by default, really.  Go ahead, tell me how bitter I sound.  But last I checked, 80 points would not have won the English top flight any time in the last ten years.  Force feeding myself doses of United's finale against Blackpool, someone asked me why, aside from Liverpool's dismal first half,  I thought this was one of the worst Premiership seasons I'd ever seen.  "It has been so competitive," I was told.  "Anyone can beat anyone."
Any other year and I might share the enthusiasm for a mercurial league table, but not this year.  Not the season in which Man United win their 19th title to move one ahead of Liverpool.
A club overtaking Liverpool with #19 should be like a lion bathing in zebra flesh, undaunted and regal.  What we saw instead was a warm kitten creeping passed the others to the finish line.  Manchester United's performances this season made me wonder, "Is this the very best of English football?"  Where was the sense of earning and accomplishment?  Give me a season like 2008-2009 when Liverpool and United came down to a photo finish, and I will salute the champions as worthy.  But not like this.
I know United fans probably don't care how they won it, but shouldn't they?
The CL Final on Saturday only cemented that notion, with the curtain being thoroughly pulled away on the wizard of Oz.  Except in this case the wizard was naked and deformed and kinda looked like a platypus.  Barcelona displayed the genuine mark of a great team in embarrassing Manchester United, rather than one pretending to be great.  Don't tell me United fans haven't realized that their bluff has been effectively called.
Why didn't more English clubs come out and attack Man United this year?  Do the Red Devils win too many games on reputation alone, and if so, when will that overreliance come crashing down on them?  Is Fergie really as inept a tactician as we witnessed against Barca?  If he didn't learn from Rome 2009, then how are we to believe he has now after Wembley?  What's next for the Messi show?  Is there anything next year that could possibly top this?  So many questions!  The start of the new season can't come fast enough– let's hope the answers aren't too far behind.
Tags:
Barcelona
,
Manchester United