September 24th, 2011 by SeveSanchez
I'm not ashamed to proclaim my love for the movie The Rock.  It's incredibly cheesy, predictable, and Cage-y– but that's why it's so great.  Every scene has a handful of quotes you can whip out with your buddies at inappropriate times.  (That's actually a false statement, every time is appropriate for Caging, as it shall henceforth be known).  It follows in a fine, underappreciated tradition in film of  blatantly trumpeting a San Francisco setting.  (The very fact that you're now associating The Rock with Dirty Harry and Bullit is probably more than enough praise).  Sean Connery slaps a ton of people, and I'm not talking about the open-handed kind he reserves for double X chromosomes (isn't that technically gender equality?).
My only beef with The Rock is the ending.  Not only do Cage and Connery avert a terrorist attack and reclaim Alcatraz (uh, spoiler alert?), but Cage is able to cover Connery's tracks without any resistance as he escapes into the free world…  To reunite with his never before seen daughter…  While Cage is able to become a father.  Whoa, that's a lot of "happy ending"-ness right there.  But I could live with that.  What I can't digest was how the producers decided that wasn't enough, and gave us one more Easter Egg with Cage discovering who really killed JFK.
Stop. Wait.  Really?  Yup.  See, the lesson here is that sometimes it's quite possible to have too much good stuff at once.  (Ask Nic Cage in real life how having hordes of expensive things has worked out for him).  I learned that in 1996 from The Rock, but I finally experienced it for the first time today.
Saturday mornings are a groggy time for me, a combination of exhausting weekdays, late Friday nights, and early AM kickoffs.  But I always keep my Saturday mornings reserved for my Liverpool games.  Always.  Without fail.  It's been difficult over the years and I often struggle to overcome the opportunities for infidelity; but, somehow I've always stayed faithful.
I never thought Fox Soccer Channel  would be the one to let me down.
Imagine my reaction when I learned at 7 AM today that the Liverpool-Wolves match would NOT be shown live.  Man City-Everton got the early game on ESPN and Stoke-Man United got the late game on FSC.  QPR-Villa is tomorrow and Norwich-Sunderland is Monday.  As for the midday Saturday games?  Arsenal-Bolton and Chelsea-Swansea got the nod.
I'm not sure who to blame for the Saturday cluster of games, but what I do know is that Fox Sports had a choice of who to screen.  Obviously I'm biased, but shouldn't Liverpool and Man United be the first names in the FSC teamsheet?  Far and away the most successful and supported clubs in the Premiership; matches featuring the Northwest duo should never go unseen. (SIDEBAR: In keeping with my stubborn bias, I already wrote a fist-shaking email to Fox Sports about delaying the broadcast of the Liverpool game).
But the Premier League is changing.  2011/2012 isn't 1987/1988.  Never before have so many viable contenders competed not only for the Premiership crown, but for media attention.  Remember when the "Big Four" was new and exciting?  Old news now.  I hate to say it, but we finally have too many good teams to try to watch.  The Premier League status quo is oversaturated with quality now.
United keep trucking along like a steamroller.  Chelsea are aging fast, but remain competitive with more cosmetic surgery than a Sex and the City set.  Arsenal are garbage, but still try to play sexy.  Liverpool are resurging, but  look like a kid trying to grow into big brother's hand-me-downs.  Man City is like Lindsay Lohan 2/3 of the way through Mean Girls when she becomes the de facto leader of The Plastics and even makes me feel super intimidated.  Tottenham have precariously assembled a balanced squad of match-winners.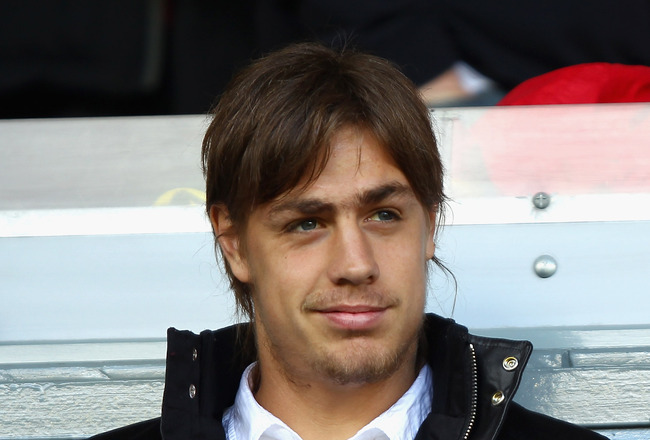 For years, fans of the game prayed for Premiership parity.  Sure, I have too.  The nightmare of every fan of English football is to become as predictable as the 2-man boxing match called the Scottish Premier League (and not just for cholesterol reasons).  But be careful what you wish for, because it looks like we're slowly getting our parity all right.  At the expense of being able to catch all your team's matches live, of course.
*****
And now a few random Saturday thoughts:
…Frontrunners for EPL Player of the Season are David Silva and Wayne Rooney (in that order).  Silva has been luminescent and is at the heart of all good things for City.  All the strikers at City should be buying him lunch everyday.  Seriously, go watch Silva.  Then tell anyone who ever dares utter the phrase "too lightweight for the Prem" to get stuffed.  Rooney's goal tally and United's record automatically get him in the conversation too.
…Claudio Ranieri takes charge of Inter.  Nobody is better at finishing 2nd place than Ranieri, which will do fine for Inter this year, I guess… Serie A is so up for grabs this season, it's not even funny.
…My top five Cage films you can take (kinda) seriously: (5) It Could Happen to You (4) Lord of War (3) Gone in 60 Seconds (2) Leaving Las Vegas (1) Honeymoon in Vegas.
…Taye Taiwo is a donkey.
…Chelsea's plan to surround Torres with familiars is starting to pay dividends.  Meireles and Mata are setting the table for him nicely now.  I bet Chelsea get two more Torres support-men this January.  RIP Frank Lampard's career.  He might want to start thinking about a move to Spurs soon if Modric goes.
…Javier Hernandez, Mr. Sophomore Slump is knocking at your front door.  Ms. Injury drove him over.
…Forget Andy Carroll and Sergio Aguero, I know who my favorite £35 million buy this year is:  Radamel Falcao.  6 goals in 4 matches for Atletico Madrid.
…My top five Cage films that are utterly ridiculous: (5) Con Air (4) Snake Eyes (3) The Rock (2) The Wicker Man (1) Face/Off.
…Leo Messi has obviously been the best player of the 2011 calendar year, but Luis Suarez will be on the shortlist come December.  He introduced himself to England with a bang last January, finishing the season with 4 goals and 5 assists in 13 games.  He led Uruguay to Copa America glory in the summer, winning the Golden Ball himself.  And he's off to a great start with Liverpool this year with 4 goals and 3 assists in only 8 matches.  And he has the signature moments to back up his plaudits (breakdancing through United, impossible angle at Sunderland, etc.).
…Stoke City, best atmosphere in England.
….There are still four unbeaten teams in the Premier League: Man United (v Norwich, @ Liverpool, v City), Man City (@ Blackburn, v Villa, @ United), Newcastle (@ Wolves, v Spurs, v Wigan), and Aston Villa (@ QPR , v Wigan, @ City).  At the beginning of the season, what sort of odds could you have gotten on Newcastle United to be the last unbeaten team in the league?  Would you take that bet now?
…Speaking of bets, I'll give you $100 if you can tell me who's top of the table in La Liga right now.  Wrong.  Nope, wrong again.  The answer we were looking for is Real Betis.  Betis was the correct response.  Perfect record so far, and they have a game in hand still.
…My top five Cagings:  pretty much too explicit to be published…
*****
It's you.  You're the Rocketman.
Tags:
Nic Cage