December 19th, 2011 by SeveSanchez
December 4th, 2011 by SeveSanchez
"Take your seaside arms and write the next line/ Oh, I want the truth to be known."  So sang the immortal Tony Hadley in Spandau Ballet's classic "True."  Although there's certain irony in this lyric, present in the fact that most people have no idea about the meaning behind the "seaside arms" lyric (HINT: it's about Lolita), it resonates with me.  Just get on with it and throw the truth out there.
That's pretty much what everyone wanted to yell at UEFA who delayed the draw of EURO 2012 by an hour so they could inhale their own smugness.  Look, I'm a nostalgic.  I'm all for botox-like injections of pomp and circumstance at every avenue possible, but when you're waiting for the draw of a major tournament, sometimes you just gotta get on with it.  Take your damn seaside arms and deliver us the future.  Heeding my own (and Mr. Hadley's) advice, I'll just cut to the chase and throw my instant reactions to the EURO 2012 draw out there.  In no particular order, here are 21 thoughts as follows.
*****
… I don't care what he does or looks like the rest of his life, I will always be intrigued to watch Zinedine Zidane do anything.  Drawing plastic balls pretty much fits that description.
… Group A might be the weakest group I've ever seen in a EURO/WC.  (Group G in WC 2006 was relatively weak, but really this type of gash hasn't been witnessed since Group A of WC 1994– with apologies to Hagi).  Poland-Greece isn't exactly the marquee opener everyone was awaiting.  Russia and Czech Republic are shadows of their former selves as well, unfortunately.
… Which brings us to my rant for the day.  I don't care what the alleged purists say, the World Cup is more difficult to win than the Euros.  First of all, the Euros don't have Argentina, Brazil, or Uruguay.  That's 7 World Cup winning teams (out of 19 World Cups) that you aren't watching compete.  Also, the Euros have only half the field.  That's one more round to slip up in or run into another giant in the World Cup.  Sure, some weaker teams from Asia/Africa/America slip in, but they don't always roll over like they're supposed to, do they, Italy? (WARNING: Limp Bizkit is featured in the video).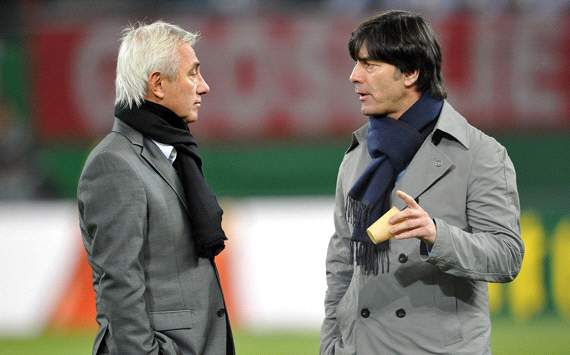 … Texted my friend Toubs about Russia.  I told him he had to love that draw.  He agreed, but mentioned how much pressure it puts on them to progress.  Noted.  I also just checked out the Russian squad, and given the form of Arshavin and Pavlyuchenko it's some surprisingly smelly poop.  Look, I'm not advocating a return to the Soviet Union, but if you could borrow a few players from neighboring states, well…
… Bert van Marwijk makes me flat out uncomfortable.  I don't want to speculate, but I'm almost positive he's some sort pervert.  (Look at the above photo and disagree at your own peril).
…  Group B features Netherlands, Germany, Portugal, and Denmark.  Forget my rant about the World Cup being harder.  It's destroyed.  Done.
… Seriously, what a group!  Every game is a must watch.  All 4 are legitimate contenders, it's kinda sad that two of them won't be playing after 8 days.  I'm still speechless at this Group of Death.  Give me a minute to digest Group B, then I'll get back to you.
… I hope we get Roberto Martinez as a pundit like we did for the World Cup.  He's a pretty intelligent and articulate analyst, and his managerial stewardship deserves more wins than it currently has.  If Wigan go down, it could actually be a blessing for his career.
…  Okay, Group C is a bit more normal.  Spain, Italy, Ireland, and Croatia.  Some good storylines here.  Giovanni Trapattoni dominates the attention with a major test against his birth country.  They aren't flashy, but Ireland have been formidable in Euro qualifying as they were in 2010 WC qualifying.  (Don't look now, but should they progress, a possible rematch with France looms).  In theory Spain should cruise to the top spot, although it's worth repeating they lost their World Cup opener 2 years ago.  Italy will want revenge on the Spanish after their 2008 defeat in a shootout.  Croatia are the only team without something to prove/avenge, which puts them in a quasi-comfortable position to progress.  That and Luka Modric.
… I'd love to see David Silva given a chance to do for Spain what he's done for Man City these last two years.  Especially because while nobody's talking about it, the drop-off in form of both David Villa and Fernando Torres is a major blow to Spain.  If Fernando Llorente is your only striker operating on all cylinders, you can't be the favorite to win EURO 2012.  Also, after winning EURO 2008 and World Cup 2010, there has to be some complacency setting in.  Ask France in 2002 about that.
… Fabio says Mario Balotelli will be the one to lead Italy to Euro glory.  Instantly, I hate Italy's chances, but feel so compelled to watch all their matches.
… Okay, I've calmed down somewhat.  Back to Group B.  I feel like every time Holland plays Germany, they must recall the 1974 World Cup Final.  (Many people considered the Dutch Total Football to be possibly the greatest of all time, and their opening goal before a German could even touch the ball appeared to cement that notion.  Alas, 2 German goals secured the Cup and proved a preemptive death knell for Cruyff's Total Football, as we know now in hindsight).  Van Basten's smirk at the EURO 2012 draw, remembering his winner against Germany in EURO 88 en route to being crowned champion, seemed to indicate otherwise.  But I know the Dutch still have to lament the iconic failure against the Germans in 1974.  I do.
… How many times do Portugal and Denmark need to play each other?   It just seems incestuous at this point.
… Despite all this Group B drama, I still think Germany should be favorites to win the whole tournament.  Gotze is ready for his international coming out party; Neuer has proven the rightful successor of Oliver Kahn (finally);  if anything, Ozil's time at Real Madrid has made him underrated again; and Mario Gomez has been surprisingly sharp for Bayern this season.  Keep that going with the regular stalwarts (get healthy, Schweini) and you have the team to beat right there.
… One little tidbit I might be the only one closely watching in Group B: the development of Christian Eriksen.  The Danish midfielder (now 19) was the youngest player at WC 2010, and has recently been named Danish Player of the Year.  If Denmark somehow escape the group, he'll be the favorite for the nonexistent Young Player of the Tournament award.
… Hands up if you remember Portugal-Holland from World Cup 2006.  Yes.  Yes.  YES.
…  Group D, the last group: Ukraine, England, France, and Sweden.  The little bowl of porridge was juuuuust right.  Ukraine, as hosts, have that going in their favor.   That's about it.  England should waltz into the quarterfinals; even their usual intrusive media coverage can't screw this cakewalk up for Three Lions.  Sweden probably isn't deep enough to progress, although Ibrahimovic seems to score one belter every Euro.  Like this.  Or this.  Oh yeah, and France.  We can only hope for the self destruction we saw in South Africa, but they'll likely eek out of the group.  Don't look now but Benzema is starting to live up to the hype from his Ligue 1 days.
… How many times do England and Sweden need to play each other?  And who is Sven rooting for?  Does anyone even care?
… Perhaps the most relieved person to see the Group D draw was Fabio Capello.  With an easy route to the quarters established, he can comfortably afford to include Wayne Rooney in his squad.  If Capello brought the 3-match suspended striker, and England failed to progress, you best believe the Italian would be Veal Milanese in the press.  Friday's draw made his decision for him.
… A lot can happen from now until the summer, but let's look at a few potential matchups in the quarterfinals.  Whoever comes from Group A will probably have a short tournament, with meetings against the Group B representatives established.  Poland-Germany would be a nice tie, because
Germany will no doubt have an excellent team.

Poland is a home nation with solid support.

That whole, uh, World War II thing.  Awkward.
Or, Greece-Portugal.  A rematch of the 2004 Final– the one where Ronaldo simply could not stop crying.  Holland v Czech Republic could also be a sizzling replay of my favorite match of all time.  The Czechs beating the Netherlands 3-2 in EURO 2004 is the only time I will ever bust out a VHS tape without shame.  As for the Group C and Group D tangles, the only matchup that immediately strikes me is the aforementioned possibility of Ireland-France.  I suppose Ireland-England would also carry heavy significance for the Islanders.  Italy-France would feature a rematch of fallen giants, the 2006 World Cup Finalists.  Wow, the more I look at it, if you win Group D you're probably in the semifinals before you know it.  Which brings us to my last "thought."

... Finally, let's talk about the betting.  Here we go, here we go!  All the odds are as of today, via oddschecker (to find the most favorable).

To Win it All.  First and foremost, I think you have to hedge any other bets by putting some cash on Germany at 7/2.  They're so due to win a major tournament, and they rarely exit in the group stage (which is probably their biggest challenge).  You could also throw in Spain at 5/2, but as of writing I don't see them repeating.  Your call.  England at 10/1 is enticing given the direct path from Group D.  Portugal at 25/1 is very intriguing; it's simply the best return you can get on a team with a legit chance of winning the tournament.  Somewhat surprisingly, Denmark is the longest shot to win EURO 2012, at 125/1.  Behold the power of Group B.
Golden Boot.  I hate David Villa at 7/1, currently the favorite in Vegas.  As discussed, he's starting to show some age.  Mario Gomez, the co-favorite at the same odds, I feel much better about.  You know I don't think he's very skilled, but on form he's exceptional at punishing teams.  Traditionally, 4 goals is usually good enough to win the G.B. at the Euros, and most of them come in the group stages against inferior opposition.  The fact that Group B is so tough is the only reason I'm not all-in on Gomez.  Van Persie at 10-1?  I love that.  If he's healthy, I actually like him to net a hat-trick against the Danes.  Thomas Muller at 20/1 also has my attention, as does Balotelli at 24/1, Benzema at 25/1, Sturridge at 33/1, and Iniesta at 99/1.
Others.  Come on.  I have to leave something for my official summer preview.

*****
EURO 2012, I can hardly wait.  I know this much is true.
Tags:
Euro 2012