February 3rd, 2010 by SeveSanchez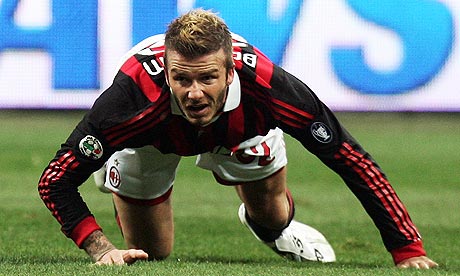 Today is the day.  Today is the day I finally admit to myself something I've been reluctant to accept for the past couple years.  It has taken me longer than most to recognize the obvious, but history and childhood memories of my first heroes have clouded my vision.  Today though, I sadly announce that Serie A "just isn't what it used to be."
Long have I defended the Italian league, the styles of play and chessboard matches, the ridiculous and the Totti, but I'm afraid I can't do it anymore.  The truth is, I don't even really enjoy watching Italian games nowadays.  The Premiership and La Liga, it seems, have taken priority for viewing as well as individual football stardom.  The only teams worth watching are your Romas and Napolis, which actually comes as a backhanded compliment to the challengers.
I wish I could write about the improvements and rising superiority of the two teams, but that would be continued living of a different sort of lie.  Their squads are filled with some good players, their managers are capable, but they're really no better than the comparable squads of a few years ago (read: Roma, Fiorentina, Lazio, Udinese).  Talent-wise, they are almost perpetually outclassed (with 2001 being the notable exception)  by the Big Three Northerners.  Yet they are this season entrenched in third and fourth place, still with hope of overhauling leaders Inter.
The explanation is a matter of potential and execution.  Here, I'm more than happy to give Roma and Napoli the praise they deserve.  Given their resources, they're maximizing their results with effort and passion.  They're grinding out results against teams all over the league table, sometimes even with a little extra style.
But competing for the Scudetto?  Not in my title race, not around my kids.  Look, you know a Jose Mourinho Inter are good for a solid 80 points every year, but they're hardly juggernauts -proven every season when they unceremoniously exit the Champions League at the hands of a real football juggernaut.  I'd expect Inter to have an 8 or 11 point lead over Roma and Napoli, but where are Milan and Juventus?
Age, scandal, poor management, take you pick of the musing offered by Serie A apologists.  Wait, they say, didn't Milan win the CL only three years ago?  If you can inform me where every one of the players of that side currently reside, I'll have your answer ready for you.  (And Juve's "title winning" sides of 2005 and 2006 – well too many of them still feature, that's their problem)!  Today's Milan and Juve are embarrassments to their great histories (trust me, I thoroughly comprehend the feeling).  I don't care where you stand, can you honestly tell me that Beckham or Camoranesi could start on the wing for Barcelona?  Feel free to peruse their rosters and play the "who would you rather have" game against Barca, Chelsea, Real Madrid, Manchester United, and others.  While their squads are more talented than those of Roma and Napoli, you wouldn't exactly be thrilled at the chance to sign the Serie A players over the stars in England and Spain.
And understandably so.  Let's take a brief gander at today's headlines from Serie A.  Luca Toni is surprised at the stupidity of Adrian Mutu for failing yet another drug test.  (After he first tested positive for cocaine in 2005, Juventus decided he was the man to score their goals, and signed him).  Ronaldinho is fined for going to a hotel party in the buildup to the Milan derby.  Shocking news, not Ronaldinho!?  (Brief side note: Pep Guardiola doesn't get nearly enough credit for the genius he is.  His first act as Barca boss in 2008 was to sell Ronaldinho and make Messi the focal point of the team.  While it would seem hard to screw Messi up, there are a lot of men who wouldn't have had the guts to make an example of Ronaldinho in 2008).
Meanwhile, look at where the hallmarks from Serie A in the last few years are now.  Kaka and Zlatan Ibrahimovic, the most exciting players in Italy since last World Cup, now go toe to toe for the two Spanish supermegagiants.  Fabio Capello has completely changed the mentality of the English National Team, introducing positivity and professional enthusiasm into the squad.  Oh, he also won La Liga immediately after leaving Italy.  For the second time in his career.  Need I go on?
I'm not endorsing any of the BS that players in England (JT) or Spain (CR) pull on a regular or irregular basis, as some footballer  in either league will do something insanely dumb as sure as the sun rises tomorrow.  There are idiots in every country.  But only a quick glance at some games is needed to show you the idiots in Italy are ruining its football faster than the idiots in England and Spain.  But don't ask me, I can't bear to watch.
Tags:
Capello
,
Mutu
,
Ronaldinho
,
Serie A