June 26th, 2010 by SeveSanchez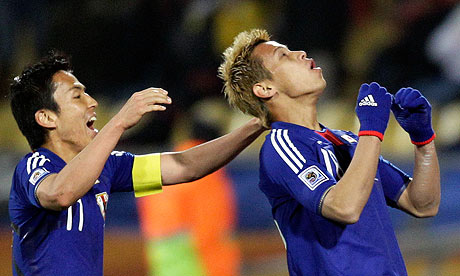 The group stages are over.  The dead weight has drifted downriver with the current of tarnished pedigrees, unpolished upstarts, and victims of circumstance.   What was once a raw cornucopia of 32 teams has been whittled down to 16 diamonds of the sharpest variety.  Make no mistake– it takes talent, desire, and grit to advance from your group at the World Cup.  There are no supremely "lucky" teams playing anymore.  Every team you watch from this point deserves, has earned the right of your viewership.
While I plan to talk in length about what we're yet to see in the WC, I'll do so more explicitly in the preview section of each matchup.  (As I have been doing but in greater detail– if you don't know, now you know).  At this point, I think the 48 matches we've witnessed merit some discussion and reflection.  So let's take a little look back on what we've learned, and maybe if you're good a slight peek at the future.  Maybe.  Shall we?
My World Cup Champions Prediction:  Before the tournament I picked the three teams I thought had a legitimate chance of winning everything–  Holland, Argentina, and Spain.  I think it's fairly safe to say I didn't get this one wrong (phew).  I mean, they all still have a chance, don't they?  Only two teams went a perfect 3 for 3, 9 points accrued from the group stages– the Dutch and the Argentinians.  You'd have to be Hater of the Year (think Silky Johnson circa 2004) to claim a team that goes perfect isn't in a great position to be contesting the Finals.
And Spain?  Well, that Switzerland debacle certainly put a little scare and some major groans into more than a few Spaniards.  But they were/are simply too good not to advance.  Hell, they still won their group.  I'm not as confident in them going all the way as I was (definitely stuck on the difficult side of the bracket) but they survived their first big test.  I'm not ready to give up on them, and I'd advise you maintain a similar position.  Remember EURO2008, when they were penalty kicks away from being dumped out by Italy in the quarterfinals?  Every championship team has a gut-check hiccup that they overcome.  Spain may have yet another ahead of them, but all the tools to overcome it.
Any teams I'd add?  Well, it would be the ultimate jinx to say the United States, but…. Let's just say, they have a very doable road to the semifinals.  However, the Americans have made a habit of making the mundane sooooo dramatic, I wouldn't put it past them to struggle with Ghana.  More on that in a later post.   Other than that, no one else I'd put my weight behind to win it all.  Yes, I know who I'm snubbing.  More on that, RIGHT NOW!
The Brazil Situation:  I don't know if it reads, but I meant this title as a parody of Pulp Fiction's 'Bonnie Situation."  Felt compelled to tell you.   Back to the matter at hand.
I'm not overly impressed with Brazil.  Yes, they're good.  Okay, they're very good– but so are a lot of teams.  Italy and France were very good, in their own ways, and look at them.  They ain't got no alibi…  Brazil won the Group of Death, which I definitely got wrong, but I think it's a misnomer to use "Death" next to Group G unless you're talking about what might face the North Korean players returning home in failure (I joke, I hope).  If the Ivory Coast wasn't such a massive disappointment, things could've turned out much differently.  (Perhaps this section should be called "The Ivory Coast Situation")?
The IC were flat against a Portugal side happy to take a draw in the opener (guess they had higher expectations for the Africans too), abysmal and uninspired versus Brazil, and could only score 3 goals against a Korean side that had just been mauled 7-0 and were mailing it in from Pyongyang.  Brazil and Portugal were in the round of 16 before it even began.
Brazil didn't thrash anyone.  They never had to either, I guess.  I don't have any convincing metrics to sway you to my side, but I can offer you the fruits of my "eye test."  The consensus weakest side at the tournament came close to beating them, and I can swear that Brazil were outplayed for good portions of this match.  Then Ivory Coast went limp as mentioned and Brazil got a decent win (fair play there).  Then when they played a team that actually turned out to be a big team, they were held 0-0 by the Portuguese.
People get dazzled by the Brazilians' pieces of flair and artistry, but I wonder how much substance is there.  Both Korea and Portugal fall in the mold of cagey, positionally disciplined teams– both gave Brazil some alarming problems.  What happens when Brazil needs to beat a team that's capable of that and counterattacking?  (Oh my god, that's Chile).  I'm not convinced.  I have the same vibe I did when I saw them in 2006.  That's basically what it comes down to.  I don't see the resolve, yet.  Yet.
All 5 South American Teams Advanced:  Wow.  I didn't see this coming.  At least not Uruguay.  I've been impressed with Uruguay (read my commentary and you'll think I'm a closet Uruguayan), but this might be an Ivory Coast addendum.   France were, well, how do you say…
France = Trainwreck:  Italy and the Ivory Coast gave them a major run for their money, but France surpassed all my hopes for a disastrous campaign.  Here's what I wrote before the tournament.
(NOTE: This France squad is going to be an absolute soap opera in South Africa.  Angry Muslim WAGS, inter-squad romance with a single prostitute, an incompetent superstitious manager ["Leo's don't make good defenders"], and the whole world believing the French cheated their way into the World Cup.  John Terry and Ashley Cole should send them a card.  Can't wait).
Never in my wildest dreams did I think the problems would be football related.   But I loved every second of it, and I'm not even Irish.  Sign #658 that Karma exists.  The only sad part is knowing that some superstitious idiot wasted a golden generation of players.  I hope Laurent Blanc reinstates Evra as captain with his first act of power– if only to send a message that Domenech's reign of terror has truly ended.
Best TEAMWORKING Teams to Root for:  I almost used the term underdog, but it's not entirely accurate given my choices.  First, let's hear it for Japan.  No one gave you a chance and there you are playing Paraguay with a good shot of reaching the quarterfinals.  Only a superb Holland team beat you, 1-0.  You have free kick specialists and the resolve I suggested Brazil lacked (just not nearly the talent).  Don't tell Miller but I'm hoping for a Japanese victory.  *Special mention goes to South Korea in this hardworking category.*
HOMER ALERT!  I'm picking the US as another "can't help rooting for" side.  I mean, last gasp goals and dramatic comebacks sort of endear our team to any neutral.  We finished above the European powerhouse in the group, and continue to be the team nobody can kill off.  *Special mention goes to Slovakia for doing the same to Italy.*
The "We knew you'd be decent, but wow" award goes to Uruguay.  Deserved group winners, conceded 0 goals.  Impressive.  Forlan has been excellent for them to boot.  *Special mention goes to Chile for challenging Spain.*
Darkhorse Team:  This gets a separate section from my Winners Predictions, because I don't count them among my favorites.  But if there was ever a team that could sneak into the WC Final, it's Germany.  It feels awkward to call a team that won 4-0 a darkhorse, but I'm doing it.  The Germans are like bacteria (um, no offense?); no matter what's crumbling and dying around them, they endure.  Germany is always around at the end of major tournaments and if it holds true they'd have already knocked off their deadliest historical adversaries (England and Argentina).  Just a thought.
Maicon's Goal Was Definitely Unintentional:  No question.  Many people are saying that he meant it because "you don't cross a ball with the outside of you foot."  Two things.  First, it's Brazil, which means everything is done fancifully unconventionally (or just look at Quaresma of Portugal cross a ball).  Second, you're right.  You don't cross a ball like that unless you mess up.  Any player can tell you that when you're running too fast and you try to cross– you end up scuffing it with the outside of you foot a la Maicon.  He had just looked up to pick out his runner and skewed it.  (See this is another reason why people go gaga over Brazil and I don't).
Breakout Players That'll Get Big Offers:  In no particular order…  Vincent Enyeama, Eljero Elia, Alexis Sanchez, Gervinho, Fabio Coentrao, Gio Dos Santos, Mesut Ozil,  Michael Bradley, and Fabio Quagliarella (maybe).
Best Player:  Hmmm.  No clear choice.  Messi looked the best but couldn't score for the life of him.  Villa scored three big goals and helped support my Torres/Villa theory, so I'm high on him.  Forlan, Tiago, and Sanchez have been great but they benefit from lower expectations.
Worst Player:  It's hard to pick, so I'm choosing "most disappointing."  The irony is that I'm giving it to a player still active in the World Cup, so I'll end up looking stupid when he scores the winning goal in the Final.  Mario Gomez, who's living off his Stuttgart form from 2 years ago– take a bow son.  The faster Klose returns, the better.
*****
That's all you get for now.  I already have some good candidates for Goal, Moment, and Team of the Tournament, but those will have to wait until she's all said and done.  Hey, it SAYS abbreviated right in the title, yeah?
If you didn't notice, that's your cue–  stop reading this and go enjoy the World Cup!
Tags:
Argentina
,
Brazil
,
France
,
Germany
,
Ivory Coast
,
Maicon
,
Netherlands
,
Selena Gomez
,
Spain